EVA or ethylene-vinyl acetate, sometimes known as PEVA, poly ethylene-vinyl acetate, is a polymer based material consisting of ethylene and vinyl acetate merged together, a copolymer. EVA also popularly known as expanded rubber or foam rubber. EVA is a lightweight material with low cost and is at the same time highly versatile used in many different ways.
EVA can take many different forms and structures and has good water & moisture resistance, cushioning & shock absorption, heat insulation and long term durability. Due to the light, yet shock absorbing, properties it´s widely used in sport footwear as either in outsole, midsole or insole. However, it has become popular element for any type of shoe. EVA can also be used as padding or interfacing.
Depending on the composition during the production process the EVA different hardness levels can be obtained. It´s important to be considerate about the hardness level since EVA does not regain it´s shape after continuous compression. A softer EVA will, compared to a harder, have worse abrasion resistance and in an outsole will thus have shorter lifespan but higher comfort.
Depending on the purpose there are many different ways to manufacture EVA. Below is an introduction to the most common methods.
EVA foam
EVA foam is generally processed to EVA foam sheets. These sheets can have many different purposes. Cut into right shape they can be used as midsoles to build up a sole or an embossed pattern can be cold pressed onto the sheet. An embossed EVA foam sheet can be used as outsole, which is common for Flip-Flops or shoes with light weight outsole.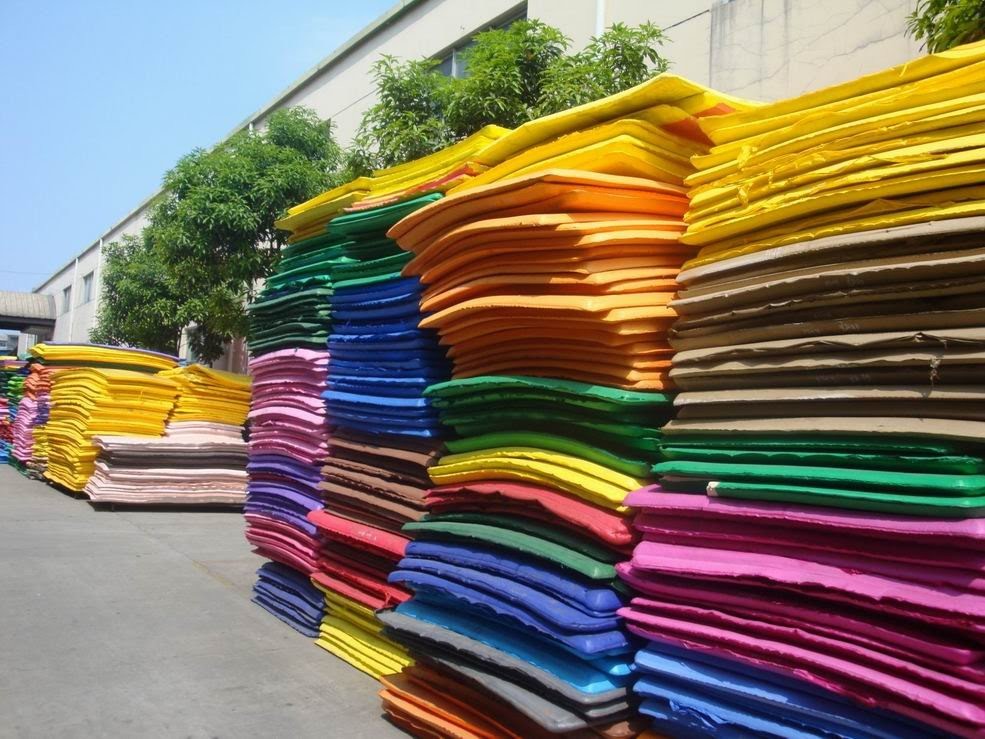 The process is carried out by mixing ethylene and vinyl acetat in a processor which works the materials together. This creates a raw, unrefined lump of EVA which needs to be made into workable size and texture. The EVA lump is put to be processed by two big rolls rotating the EVA through, making it flat and thin. As it´s processed between the rolls it´s cut into sheets and put aside. Multiple of these sheets are grouped together, put into a pressure oven melting and expanding them together. The EVA foam sheets can be finished with prints or by cold pressed patterns. The process can be more or less automated depending on set up.
EVA pellets
EVA pellets is a raw material which later on is processed in order to get a product,. It doesn't have any direct application in the footwear industry in it´s raw state. It´s normally hot pressed into shape and then further processed to get a product.
The process to make it is same as the first step of EVA foam where ethylene and vinyl acetate is worked into a stiff dough. This is separated and cut into small pellets.
Cold press EVA
A way to deboss EVA sheets with pressure to take desired shape. The EVA sheets is placed between a mold with embossed pattern. The molds are pressed together and EVA gets desired debossing.
It´s usually used for outsole or insole patterns but also to control the surface to be smooth.
Hot press EVA (CMEVA)
Hot press EVA or compression molded EVA (CMEVA) is made by filling a mold with EVA pellets to achieve desired shape. The mold is heated which causes the pellets to melt and combined with pressure it expands the EVA taking the shape of the mold. This can be done with varying degrees of precision.
Phylon (twice foam EVA)
Phylon is created by a compression molding technique. Hot pressed, expanded EVA, is loaded into a mold which presses it with heat once again. This pressure and heat will create a more condensed material, however the air bubbles will expand which will create a flexible material. It´s commonly used in sport shoes as midsoles or bottom parts of EVA outsoles since the abrasion properties are better than sheeted EVA . A phylon midsole is easily identified by the small wrinkles it shows after use.
It´s generally produced by using hot pressed EVA prefabricated which is put into a more detailed mold to define the sole better. The mold is heated which causes the EVA to expand and form according to the shape of the mold. The mold is put into water for cooling. Once cooled the mold is opened and the soles is removed with a hook.
Injected EVA
Injected EVA has the benefit that full shoes can be created in one go. This is commonly used for slippers and sandals but is to an extent also used for kids boots. With a traditional direct injection process (read more here), liquidized EVA is extruded into a mold to take desired shape.
References
https://www.solereview.com/difference-between-compression-and-injection-molded-eva-midsoles/
https://niketalk.com/ams/midsole-materials-features-enhancements.23658/
https://www.sneakerfreaker.com/articles/material-matters-eva-foam/
https://en.wikipedia.org/wiki/Ethylene-vinyl_acetate
https://shoesobsessions.wordpress.com/tag/nike-shoes-technology/
http://www.foamtechchina.com/eva-foam-material/
http://tecnologiadelosplasticos.blogspot.se/2012/06/etilvinilacetato-eva.html?lipi=urn:li:page:d_flagship3_pulse_read;y5XZ3S5zT3OHQnQ0oGNeGA%3D%3D
Flip Flop Picture By Steve Johnson from Valparaiso Indiana, USA - flip flopsUploaded by SchuminWeb, CC BY 2.0, https://commons.wikimedia.org/w/index.php?curid=14571520