Leather has been a preferred material for soles already from ancient times when there was no distinction between shoe and sole. Leather soles have a natural ability to breathe and molds after wear to the foot making it comfortable. The material itself provides little cushioning making thin leather soles a bad option if looking for comfort where thicker options can be perceived as very comfortable after wear. Leather soles are generally sensitive to water or oil which is absorbed by the material making it softer and lowers abrasion resistance. Leather soles are generally positioned in higher price ranges.
Breathing
Natural material
Sensitive to water and oil
High price level


The most common tanning method for leather destined to be soles is vegetable tanned. Vegetable tanning creates a thick, robust leather that doesn't stretch and has good abrasion properties. It´s ideal to use for both insoles and outsoles.
Process
After the leather is tanned it´s cut into rectangular leather sheets, parts unfit to use is cut and removed. The thickness of the leather sheets are measured to ensure the thickness is even, normally a deviation of 0,5mm is considered to be within tolerance. Leather sole boards are normally purchased as 3.5 mm-4mm, 4mm- 4.5mm, 4.5mm- 5mm, 5.5mm-6mm or 6mm+. There are also thinner leather soles normally used for ladies heeled shoes such as pumps and boots but also for ballerina flats. Thickness for these products can be from 1,8mm-2,0mm and thicker.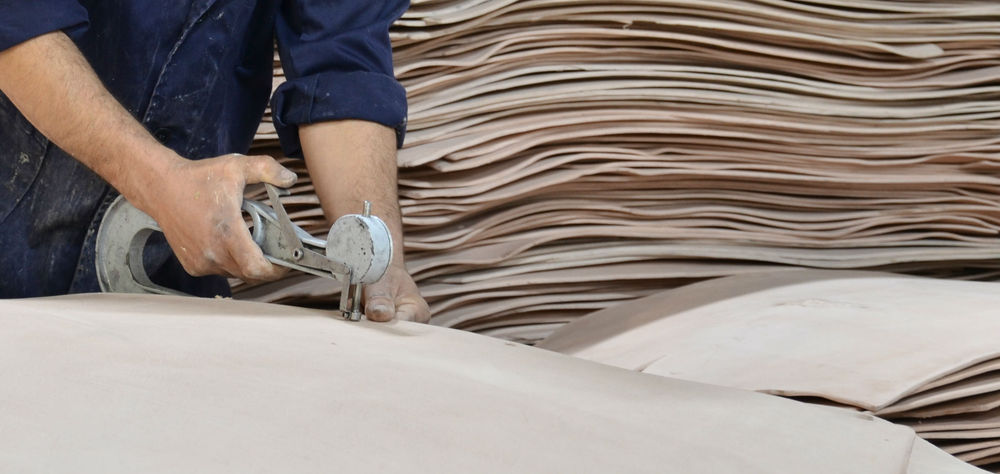 The sheets are then cut into workable sizes and then trimmed in lots to get the correct measurements. In modern production, the leather is usually cut by laser or water jet with the precision to have the right measurements right after cutting.
If not cut by water jet or laser the process after the tough cutting is to ensure measurements follow a standard. Multiple soles are staked on top of each other and a wood mold for the correct size and shape is positioned on top. The staple is then processed in a sole buffing machine, rotating sandpaper buffing the soles to the dimension of the wood mold.

Finishing
With soles in the correct shape and size, they will be finished by coloring, buffing, pattern embossing or flexing injection depending on use.
Coloring is used to obtain a certain color of the outsole. It´s normally applied by spraying the colorant directly on the sole, sealing it with a lacquer.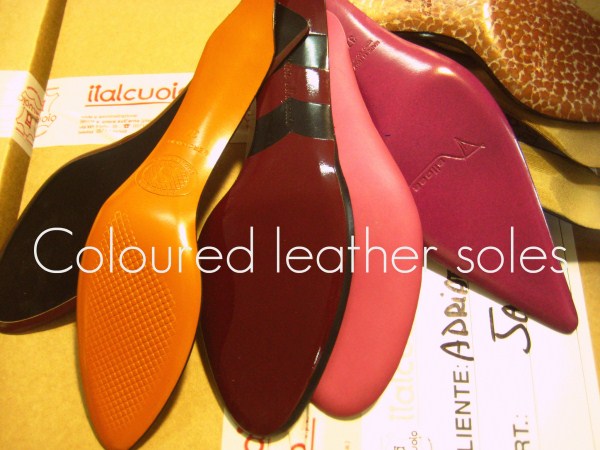 Pattern embossing to create a light thread pattern to improve anti-slip properties but can also be used for decorative purposes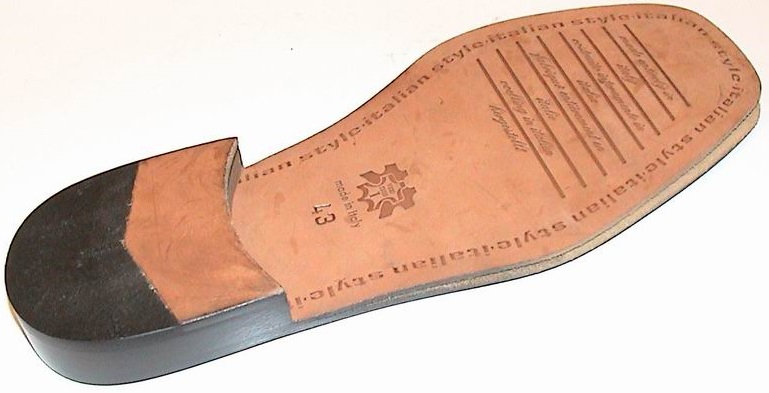 Flexing injection is used in order to improve the comfort level of the outsole. A window is cut along the flexing line of the shoe for injection of a more flexible material such as TPR or PVC. The leather sole with a flexing window is put into a mold where the material is injected. This creates a more flexible sole with leather in the other areas.

Heel
Traditionally heels were created by stacking leather until desired height was reached. Nowadays the common practice is to use a heel base of plastic such as PLA or ABS and then have a stacked veneer of leather to cover the plastic base. It maintains the look of a leather heel but is considerably lower in cost and is more stable. In this way, it´s also possible to make thinner heels with a leather look using a plastic heel base but reinforced with a metal stick running through the heel to increase stability.
The top piece, the part touching the ground, is normally fully or partially in rubber to increase abrasion resistance and to facilitate renovating the heel after wear.
Resources
http://conhpol.pl/en/leather-vs-thunit-all-you-want-know-about-soles-vol-1/
https://www.morevafoam.com/knowledge-base/shoes-sole-classification-and-characteristics
https://howtoshoes.blogspot.com/2014/05/basic-of-shoes-bottom-parts.html
http://www.theshoesnobblog.com/2017/06/leather-soles-vs-rubber-soles.html
https://touniversewithlove.com/2016/05/27/shoe-wisdom-should-i-add-rubber-soles/