With a U-patterned plateau rubber sole on a relatively pointy last. Common with woven check pattern of upper on vamp. Can come with a strap and buckle or laces. If with laces, eyelets are commonly D-rings. Arrived on the market in the 1950s. It´s characterized by a patterned plateau wedge outsole, normally with buckle and strap or laces featuring ankle-high quarters.
Background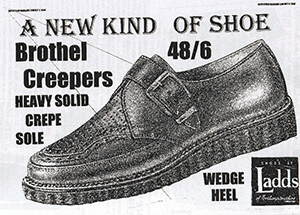 There are many reports on the Brother Creeper to originate from British soldiers positioned in North African deserts during WW2. Their thick soled crepe boots help deal with the extremities of the heat and the sandy terrain of the area made. Many got fond of these shoes and brought them back to the UK after service. Well back in UK, the soldiers still wearing the shoes hit the nightclubs and an increasing number of civilians followed the trend. In 1949 George Hamilton Cox joined his father's shoemaking company and got to work pioneering the company's signature Creeper shoe, which was marketed under the name 'Hamilton.' During the 1950s in England, a subculture called Teddy Boys emerged defining themselves with dandy fashion and where music had a big influence. They had adopted these heavy outsoled shoes as part of their outfit and helped increase the popularity.
As to the name "Brothel Creepers" it's supposedly to originate from the returning soldiers habits of visiting nightclubs in the streets of London.
However, there are also other accounts that give the credit to the teddy boy movement. In 1953 the hit "The Creep," from Ken Mackintosh was embraced by the teddy Boys along with a special slow shuffle dance. After this, they also became known as "Creepers".
During the late 50s and 60s, the Teddy boy culture declined in popularity and it was not until the 70s when two young Londoners, Vivienne Westwood and Malcolm McLaren – started a new era with the opening of the shop Let It Rock shop at 430 Kings Road, Chelsea. They shared an interest in the 1950's rebellious culture where Westwood started making reimagined Teddy boy clothing for McLaren to sell. George Cox, a maker of the original Hamilton creeper, was still in business, although now focusing on other shoe designs. It didn't take long for the company to realize there was a growing interest in a newly popularized Teddy Boy scene. Its classic Creeper, reintroduced for a new generation, was soon being sold in the shop.
In 1972 the store was renamed to: Too Fast to Live, Too Young to Die and changed its direction towards a more rocky image with leather jackets and printed T-shirts. The creeper was still in the assortment and became a favorite for both crowds.
Today the creeper is not widely worn but is influencing fashion in different ways.
References
http://vintagedancer.com/1950s/mens-1950s-shoes-styles-rebel-to-rockabilly/
http://www.smithsonianmag.com/arts-culture/whered-you-get-those-creepers-63707339/?no-ist
http://www.theupcoming.co.uk/2012/10/03/the-story-behind-brothel-creepers/
https://en.wikipedia.org/wiki/Teddy_Boy
http://www.rebelcircus.com/blog/brief-history-creepers/
https://www.tukshoes.co.uk/blog/2014/01/do-the-creep-a-history-of-the-creeper-shoe/
https://issuu.com/vintagevillemagazine/docs/vv_issue_2_final/1
https://flashbak.com/george-cox-origins-diano-brothel-creeper-393423/