Belonging to the Chukka boot family the desert boot is an iconic style. Ankle high boots with open lacing system and rounded toe box. Originally 2 pairs of eyelets, suede or leather upper stitched down on crepe outsole.
Ankle high shaft
Quarters sewn on top of vamp.
Stich down construction
History
Desert Boot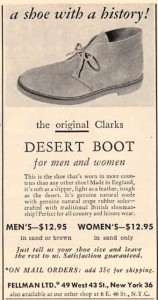 Belonging to the Chukka boot family but is iconic to the extent that it could present a category of it's own.
During World War II south african forces was fighting alongside other Brittish commonwelth forces in the north african regions against the axis Afrika Korps lead by Erwin Rommel. The South African soldiers wore Voortrekker boots made in veldtschoen construction. Their shoes were regularly breaking so they whet to the local cobblers to improve upon them. They needed something light and with good grip. Comparing with the Voortrekker boots the upper design is similar but the outsole changed to feature a crepe outsole for grip and upper material in suede.
In 1941 a Nathan Clark, great grandson of the founder of Clarks footwear company) was deployed in Burma (now Myanmar) during his military service. During his off duty time he experimented with new footwear designs in his barrack, making patterns out of newspaper which he sent back to England and his family business. He had also taken notice of the boots many off duty officers previously serving in North Africa used. He started focusing his design efforts on them, sent back patterns to his brother, chairman of the Clarks company, in England but got no satisfying response. He returned home 1949 still with the idea of the "desert boot" in mind. He started working together with pattern cutter Bill Tuxhill and they created their first version together: Crepe outsole, suede upper and only two pairs of eyelets for lacing with the characteristic leaning Chukka design. He did not get any big response to his public in England but brought them 1949 (some sources say 1947 or 1950) to the Chicago Shoe Fair where they immediately got into the spotlight. The idea that they could be marketed as British colonial footwear with "plantation rubber" outsole and the connection to the military played well with the american market. The design, being in a

borderland between dressed and casual together with the fact that they "never needed to be polished!" was also something the market reacted positive about. It did not take long until they were adopted by French and Italian youngsters where British were not late to follow. This was during a time when the more formal Chelsea, Beatle and Jodphur boots were staples. Due to their relative comfort with a wider shaft, softer materials and flexible sole the Desert boot had a niche in the market but it was not until 1960s they became really adopted by the British market and later on got a global recognition.
Today the desert boot comes in many different varieties from many different brands but is still tightly linked with Clarks.
Category
Casual shoes/Dressed mens
Constructions
Cemented
Stich Down
San Crispino
Material
The Desert boot category is not defined by a specific material. It can be made in leather, synthetic or textile. However, normally upper is suede and outsole is crepe.
References
https://en.wikipedia.org/wiki/Military_history_of_South_Africa_during_World_War_II
https://www.theguardian.com/theguardian/2011/jul/03/nathan-clark-obituary
https://poppybarley.com/magazine/shoeology-the-history-of-the-chukka/
https://www.gentlemansgazette.com/the-chukka-boots-guide/
https://en.wikipedia.org/wiki/Chukka_boot
https://www.theguardian.com/theguardian/2011/jul/03/nathan-clark-obituary
http://ww.whitesmoke.co.za/powwow/viewtopic.php?t=6322&postdays=0&postorder=asc&start=0&sid=ffb53918e99a6a27806788316df7f659
https://en.wikipedia.org/wiki/Voortrekkers
https://books.google.se/books?id=RhGeBAAAQBAJ&pg=PT100&lpg=PT100&dq=bill+tuxhill&source=bl&ots=1LCpLlY2nh&sig=R2WbAxIcCasB_4CeYhO3_0XgCYM&hl=sv&sa=X&ved=0ahUKEwiSo7m3qaXQAhUECywKHZVqCygQ6AEIJzAB#v=onepage&q=bill%20tuxhill&f=false
http://sabotagetimes.com/style/the-classic-clarks-desert-boot