The espadrille is a casual shoe with an outsole and insole made of rope, normally jute or similar grass. Possible to find in slipper construction without lacing but also with laces. Normally has a thin rubber outsole at the bottom to increase durability. Espadrilles are characterized by an outsole of rope material, a casual look popular in summer, a round toe shape.
Etymology
The word espadrille most likely originates from Esparto, a tough, wiry grass found in Mediterranean countries used for making rope.
Terminology
Espardenya - French, Spanish
Alpergatas - Used in South America
Esparteña - Catalan
History
Using braided rope to make footwear have been around for many thousand years. There are different accounts claiming it´s originating from Spain or France where other reports say Egypt.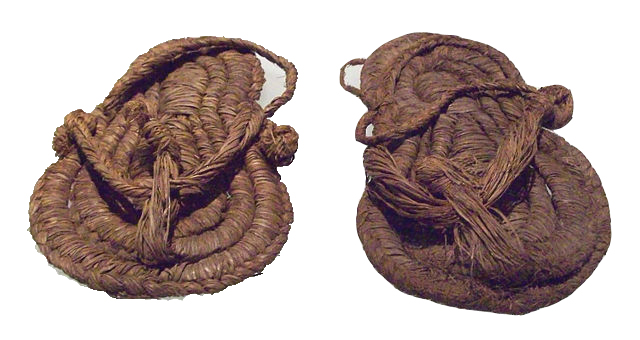 During the 13th century the shoe we know as espadrille was born in the Pyrenees at the French-Spanish border. Espadrilles were worn by the infantry of the King of Aragon. At the same time, the production spread to a great extent. At the beginning of the 14th century, Mauléon (a French city located in the Atlantic Pyrenees) began producing and selling big quantities of espadrilles. At the time there was also production in the Pyrenean region of Basque (northern Spain) as well as in Catalonia, Spain.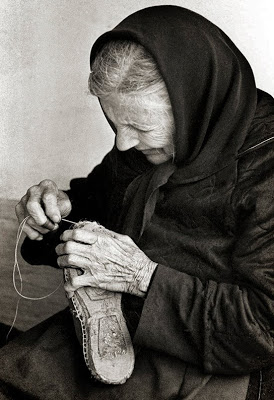 During the 15th century, Spanish colonizers brought espadrilles to America.
Making espadrilles is a labour-intensive process needing many workers and migrant work was common where "hirondelles", young girls from the Aragonese valleys came to work seasonally.
In South America, the shoe got established and by 1850 Buenos Aires had more than 50 families that hand made espadrilles, or alpergatas as they are called locally, for a living. Due to the comfort and cheap construction, it was appreciated by rural workers and gauchos, cattle farmers. The situation was similar in Europe where mainly mine workers and rural farmers were wearing the espadrilles. These early espadrilles were peasant made and worn by peasants. A small amount of canvas combined with a rope-work bottom was much cheaper than leather. Many versions featured a lace-up component to keep the sandals firmly attached to the feet.
The big fashion breakthrough came in the 1940s when Hollywood icons as Lauren Bacall and Rita Hayworth featured espadrilles on the movie screen.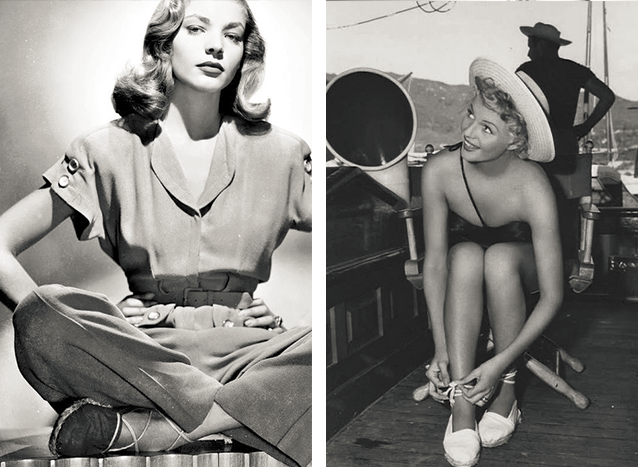 Further In the early 70s the iconic fashion designer Yves Saint Laurent had and idea to create an espadrille with a wedge heel. During a trade show in Paris, Yves Saint Laurent visited an espadrille supplier founded in 1976 called Castañer. They had never made a heeled espadrille before but was up for the task.
If Yves Saint Laurent wanted a wedge espadrille, a wedge espadrille he would have! - Lorenzo Castañer, Castañer.
The model was a success and espadrilles have been part of the fashion picture since.
Espadrille construction
Normally the espadrille shoe is made on top of a base of rope in jute or similar material. One end of this rope is fastened on a wood mold and then the mold is circulated, gathering the rope around itself. This creates a platform of the jute rope which is put into a warm steel mold to achieve desired shape and density.
To ensure durability for the outsole a rubber sheet is added by a vulcanization process (read more here).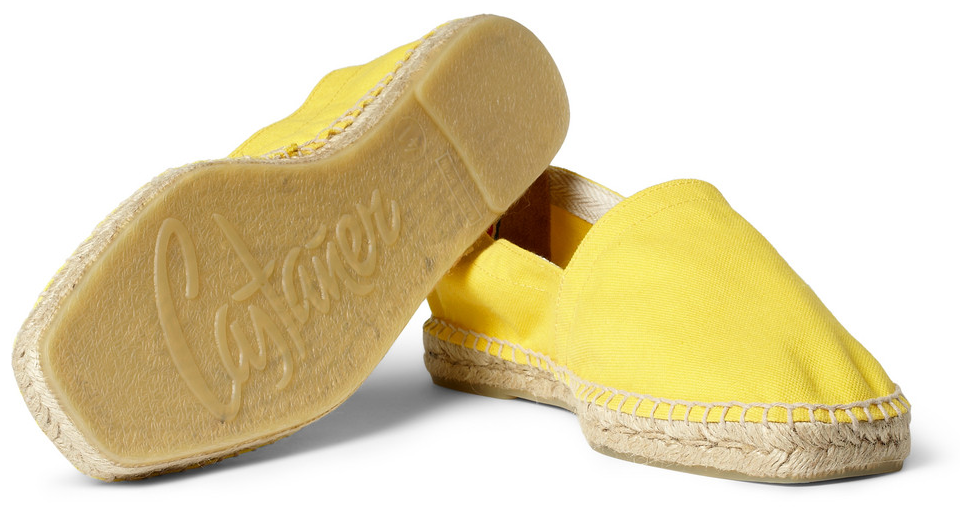 The upper is normally hand-stitched to the outsole even though there are also capable machines.
Real vs "Fake"
With the increase in popularity of espadrilles, the hunt to make the production more efficient have created a new kind of "espadrille" resembling the traditional espadrille. Instead of the massive jute outsole with a vulcanized rubber sheet on the bottom, it´s simply made in the same way as a cemented sneaker with a jute foxing glued on top of the outsole sidewall.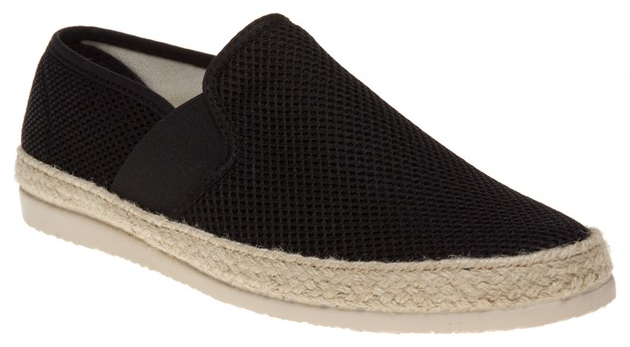 A slip-on sneaker with a jute taping as foxing. Sometimes referred to as a "fake" espadrille
Appearances
There are a big number of different espadrille types. Below is a selection of the most common ones.
Laced espadrille
As a normal espadrille but with lacing for style and adjustable fit.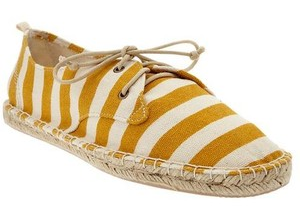 Strapped Espadrille
The painter Salvador Dali was especially keen on espadrilles and in most of the pictures he is wearing espadrilles with straps secured around the ankle.
Wedge Espadrille
As the first version of the espadrille that really promoted a diversity of product. It was created in 1976 by Yves Saint Laurent and is still a staple in their collection.