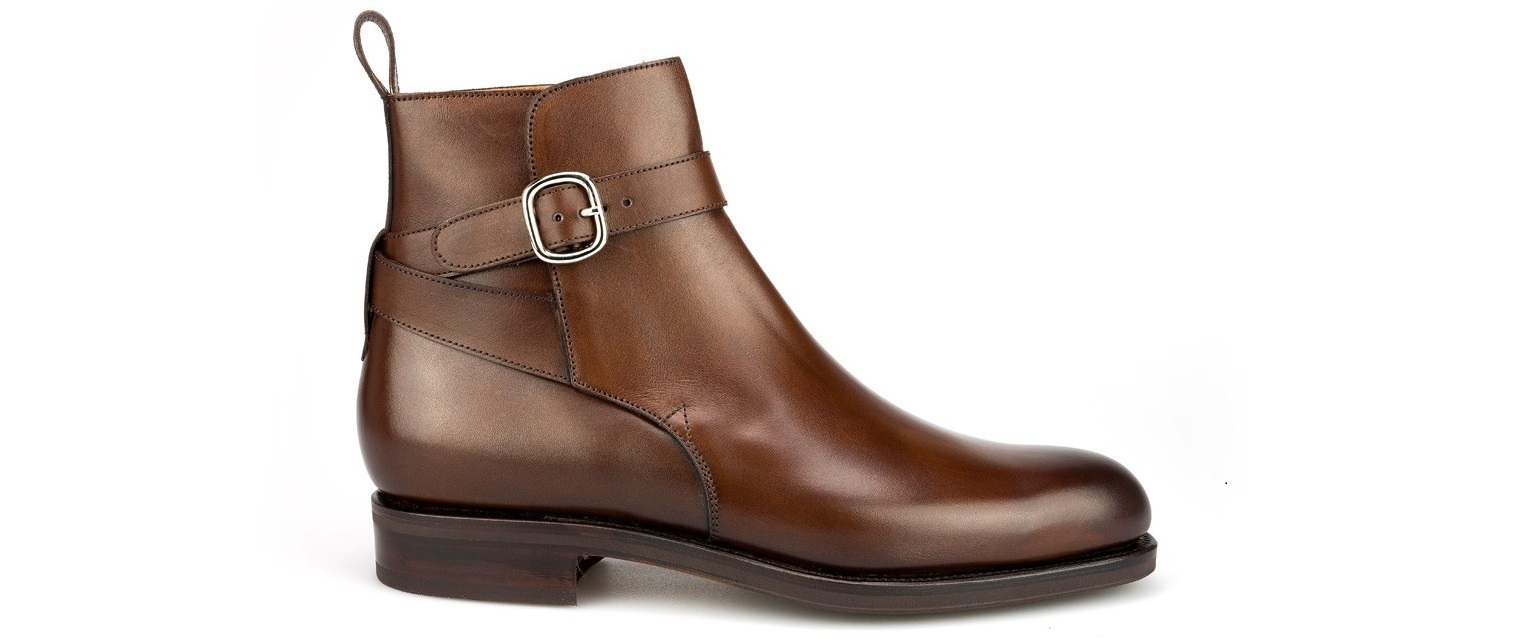 Ankle high boot identified by the vamp sewn on top of the quarters and fastned with a strap and buckle. Normally has a round toe and low heel. Was originally desgined as a riding boot.
Ankle High
Vamp sewn on quarters with strap and buckle fastening system
Low heel
History
In the late 90th century a new kind of trouser appeared in the equestiran, horse riding, market. Earlier long boots were needed since the continous rubbing of the inner calf against the animal caused the trousers to get destoryed. At this point there were no elastic available in garment and riders needed flexibility and comfort so they usually wore wider pants tucked into the long boots. The new trousers would find a solution to this problem without having the wearer to use difficult to get on, expensive, high boots. Sir Prathap Sing, the creator of the Jodphur trousers, sought the solution inspired by the traditional indian trousers churidar. Churidar are long pants, tight fitted over calf but loose around the hips usually in a rather thin material. Sir Pratap let a tailor in the Indian city of Jodphur (thereof the name) improve upon the churidar by increasing the size around hips to have more space to move and changed the fabric to be more thick with reinformcement on calf areas. With this the high boots were no longer necessary but could be replaced with a shorter shaft model.
At the time the Jodphur pants were designed ankle boots such as Chelsea boots were available but rarely used for riding. It´s not clear how or who invented the Jodphur boot but it was not primerily used when riding but rather when walking or working in the stables.
The history of why the boots are called Jodphurs is not defined. It could either be derived from the fact that they were common to use with Jodphur pants and got the name from that. However, it´s not clear if they originally were deisgned in Jodphur or not.
Jodphur boot vs Chelsea boot

To Left: Chelsea boot, To Right: Jodphur boot
The Chelsea boot back and front pieces are stitched together under a gausett of elastic keeping the foot in place.
The Jodphur boot has a front piece overlapping the back piece. It´s usually fastened with a strap and buckle.
Category
Casual shoes/Dressed mens
Constructions
Cemented
Goodyear welted
Blake Stitched
Norweguese
Material
The derby category is not defined by a specific material. It can be made in leather, synthetic or textile.
References
https://en.wikipedia.org/wiki/Jodhpur_boot
https://www.gentlemansgazette.com/jodhpur-boots-guide/
https://www.gentlemansgazette.com/jodhpurs-guide-pants-history-style-where-to-buy/
https://en.wikipedia.org/wiki/Jodhpurs
https://itsshowtimenj.wordpress.com/2012/04/27/jodhpurs-just-where-did-they-come-from/