Wide group of shoe comprising various different models, explain below. Common among all is that they don't have any lacing system but is just slip in. Normally it's a moccasin stitch on vamp, however it´s not necessarily functional. There are both loafers of more dressed character and more casual versions. They are characterized by: no lacing system, moccasin inspired vamp stitch with low heel and low quarter exposing ankle.
Etymologi
While there is no confirmed history for the name it´s said that the word Loafer came into use around 1934 by the Spaulding family who had a leather and lumber business. They started producing a loafer style based on an article in a magazine depicting the Norwegian dairy industry and workers having a distinct sandal. They started producing the leader shoes and gave them the name loafer, which refers to the area where cows in a dairy farm wandered around or "loafed" before milking.
The word loafer was trademarked 1937 by A. E. Nettleton Company. This trademark is now expired.
Process
Loafers can be produced by many different processes. Most commonly is a cemented, blake stitched or goodyear welted or bologna construction. Read more about them here.
Origin
There are many different kinds of loafers and origins. Below are some of the main categories.

Wildsmith Loafer
The first loafer to be created was done by the UK based footwear company Wildsmith Shoes, founded in 1847. The business was mainly making and repairing boots for the Household Cavalry, part of the Monarchs official bodyguard. 1926 the grandson of the founders, Raymond Lewis Wildsmith, was requested to make a casual shoe for King George VI for him to have at home.
Raymond came up with a model without lacing to easily be able to take it on and off together with a low heel. It featured a moccasin stitch to secure the vamp and a vertical stitch on the toe, known as Split toe.
He later on used this design in his ready to wear collection under the name 582 and later 98. Today it´s known as the Wildsmith Loafer.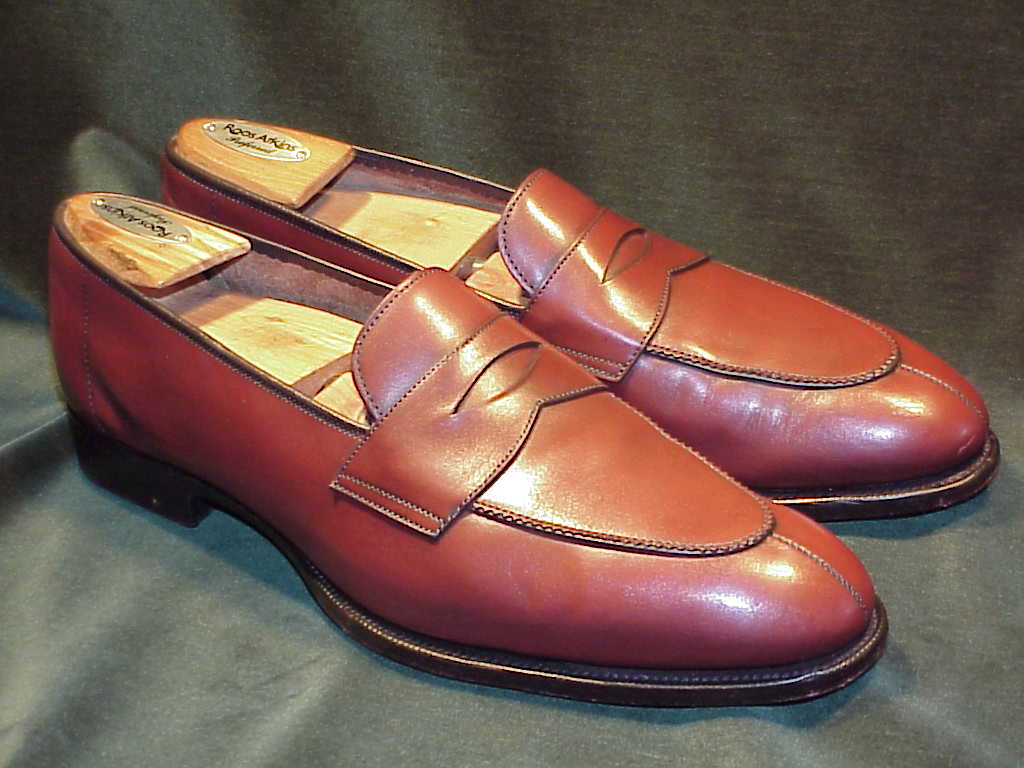 Aurland Loafer
Aurland, a small town in Norway, was during the 19th century known as a place to fish Salmon. It was popular among English aristocracy who came to Aurland at this time and is an important reason why shoemaking flourished in Aurland. The 'salmon lords' needed help repairing their shoes, inspiring the trade.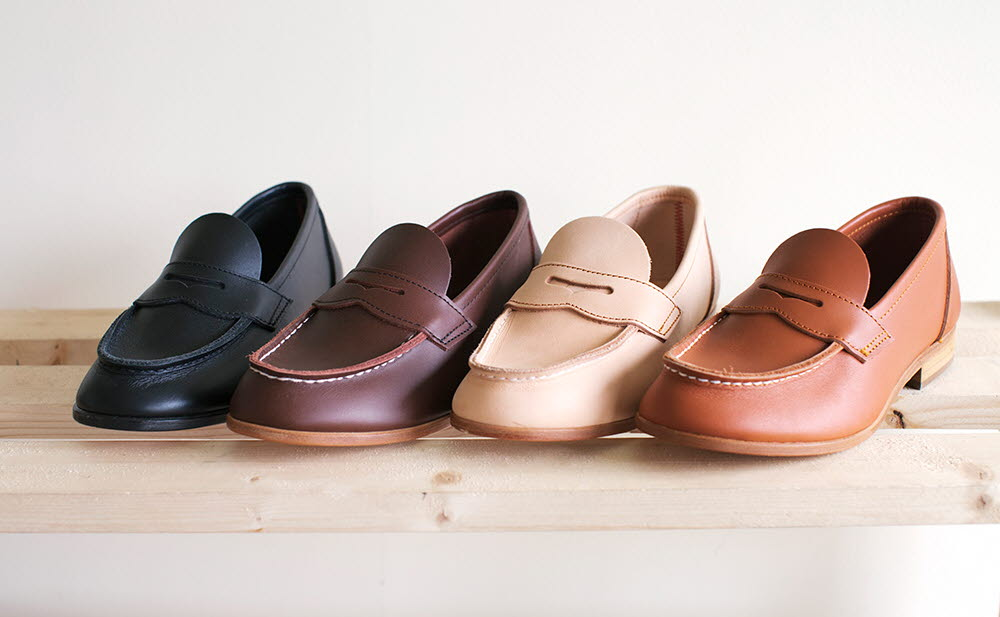 Nils Gregoriusson Tveranger (1874-1953) the son of an established shoemaker in town went to USA to study shoemaking and returned to Aurland 1894 at the age of 20. In 1908 he introduced his first version of the Aurland shoe, which had laces and eyes and went under the name of National Shoe.
During his stay in USA he came in contact with shoemaking from the native american Iroquois tribe, famous for their decorated moccasins. He saw resemblance in the moccasins and the Aurland local "Teseskoen" which he wanted to invent upon. Around 1930 he introduced the Aurland Moccasin, which later got renamed to Aurland Shoe.
Production is still running for Aurland Loafers in Aurland, Norway.
Penny Loafer
Aurland Loafers were a direct hit, which G.H. Bass took notice of. 1934 they started making loafers called Weejuns (sounding like [Nor]'wegians'), the difference being a band of leather with a more significant diamond cutout across the saddle, a less marked moccasin stitch creating a more dressed look.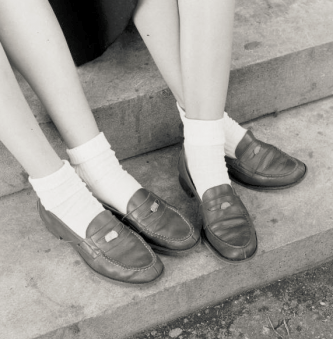 It was said that it was the wife of Mr. Bass, who used to send off her husband to work with a kiss on the cheek every morning that inspired the very distinct lip-like detail on the shoe strap. That little strip of leather became the mark of the Bass Weejun and other shoe manufacturers did the same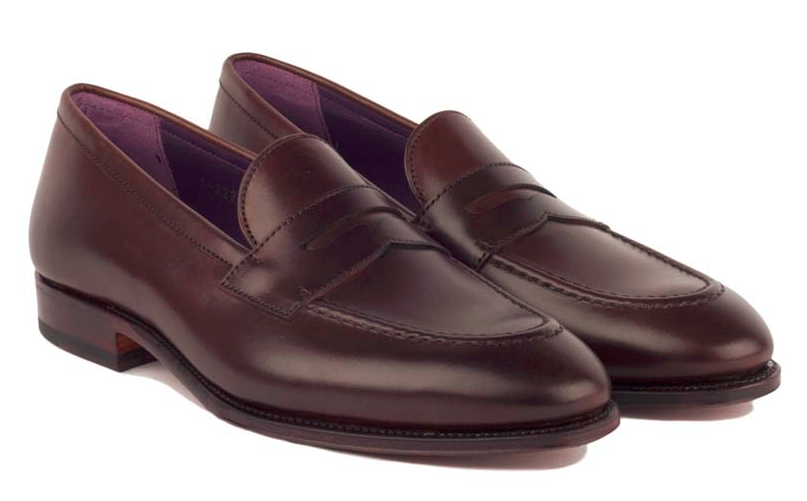 The term "penny" loafer have many different explanations. In the 1930 two dimes was enough to make a emergency phone call and was slipped into the cutout for storage. Later on this changed to shiny pennies since that gave more luster and attention.
Other reports state that having one penny in a loafer signaled that you were single and on the lookout.
Kilted Loafer
The Kiltie came about in Scotland as an extended tongue of a brogue to cover the laces when worn with a kilt. This was picked up by Scottish kings and dukes and trickled later on down to golfers and even mods. During the 1950s this trend was at it´s pinnacle and loafers were also decorated with a kiltie. It´s possible to find on a range of different loafer types and does not have any particular function apart from creating the particular look.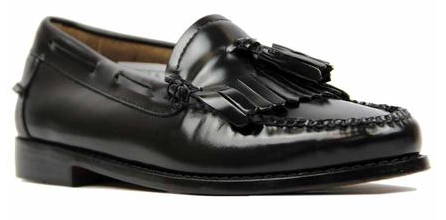 Gucci Loafer / Bit Loafer
As the name suggests Gucci created an iconic version of the loafer often referred to as a separate subgroup within the loafer section. The characteristic metal ornament is to resemble a horsebit, a key element in Gucci history. After WWI, Guccio Gucci worked at the Savoy hotel in London. He was overhearing conversations by the English aristocracy talking about racing and polo. Gucci started to understand how much horses meant to this group of people and combined this with his idea to start a high level fashion brand.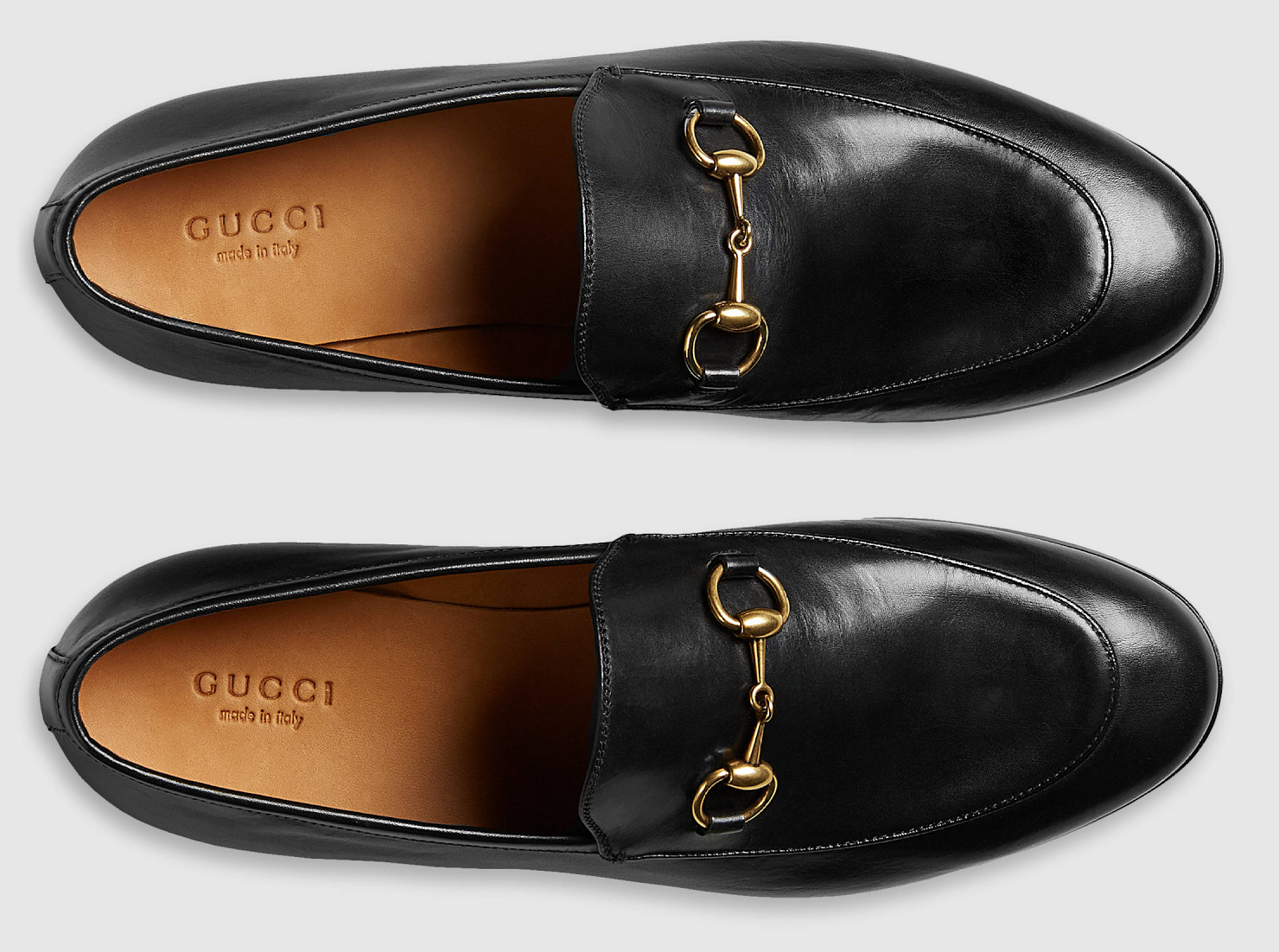 In 1921 he founded Gucci back in Florence. The Gucci loafer was launched in 1953 by Guccios son, Aldo Gucci, and quickly became synonymous with the jet set and luxury image Gucci wanted to convey. It´s still a corner piece in Gucci's collection and is since 1985 the only shoe in the permanent collection of the Metropolitan Museum of Art in New York.
Belgian Loafers
In the 1950's Henri Bendel (1908-1997), nephew of Henri Bendel who started a famous shop in New York bringing brands such as Chanel, Doir and Balenciaga, founded Belgian Shoes. They are only sold in the Henri Bendel shop in New York and online. The success is partially transpiring from the a difficult to get atmosphere with long waiting time to get a pair and making sure that the customer is right for the product. "If your feet are too wide or they just don`t fit, we won`t sell you a pair, You should see how angry that makes people." - Henri Bendel 1991.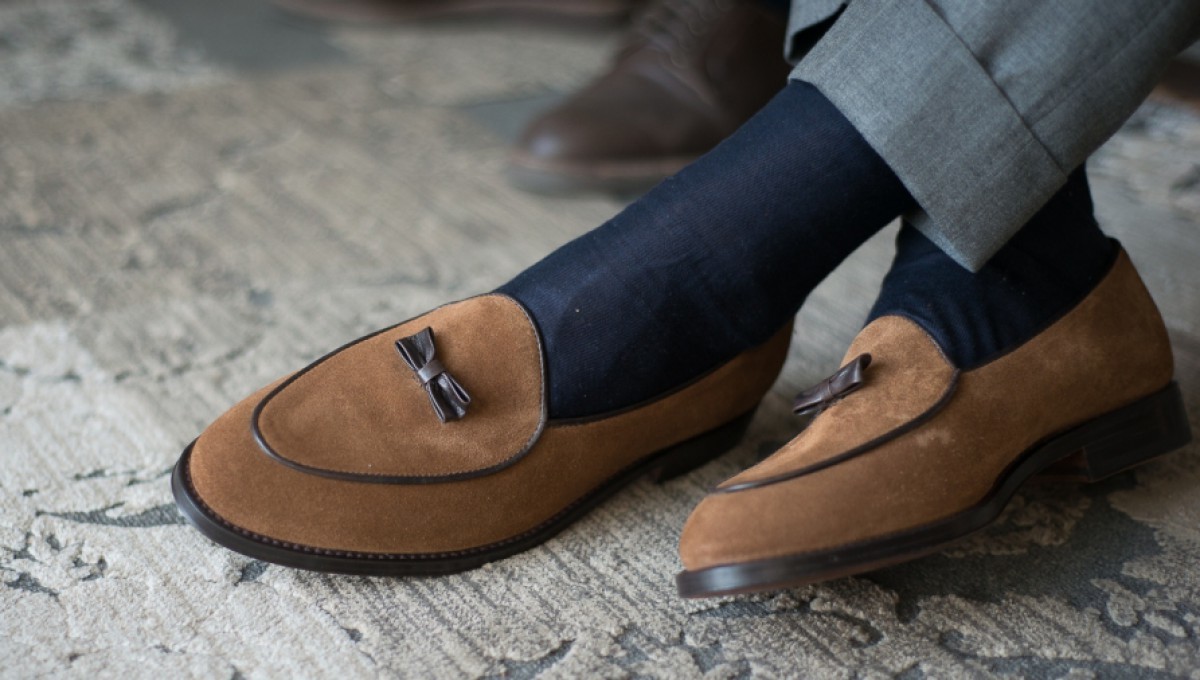 The production is situated in Belgium where Bendel purchased two 300 year old factories outside of Brogues
They are produced in a stitch-and-turn method instead of creating an external moccasin stitch line as on Penny loafers or similar the shoes are turned after stitching to hide any seams. The outsole is normally stitched to the upper with a blake stitching. While there are many different versions on the market the original Belgian loafer is intended only for light use and "should be worn outdoors on city pavement in dry weather only,"
The shoe is characterized by a small bow on vamp apron and soft sole construction although there are more sturdy models made nowadays as well.
The Belgian Loafers grew relatively popular and the demand for Belgian shoes was a turning point for the Belgian footwear industry. Because of this Henri Bendel was in 1964 awarded Knightship of the Order of Leopold I. Yet just six years later he was made Knight Commander of the Order of Leopold II.
Tasseled Loafer
On a trip to Europe the actor Paul Lucas (1891-1971), starring movies such as The Lady Vanishes and Watch on The Rhine, brought a pair of oxford shoes back to the US with tassels on the end of the laces. He liked this and went on to the Manhattan shoemaker Farkas & Kovacs to make something similar but with the tassels more integrated in the shoe. However, the result was not according to his expectation and he took the request to two other shoemakers in New york. They did not know what to do with it and subcontracted it to Alden Shoe Company in Brockton, Massachusetts. The president of Alden, Arthur Tarlow Sr., took the challenge himself and Came up with a slip-on pattern keeping the leather lace and tassel as a decoration. The model was launched in 1950 in two stores and after getting an order of 26 pairs from a single customer they know they were onto something.
One famous version of the tasseled loafer was released in 1957 by request from Brooks brothers to Alden to create something unique for them. Alden responded by developing a Cordovan model with an added stitched heel cap.
The tasseled loafer have also played a part in politics being closely linked to Lawyers. George Bush complained about Bill Clinton being supported by "every lawyer that ever wore a tasseled loafer."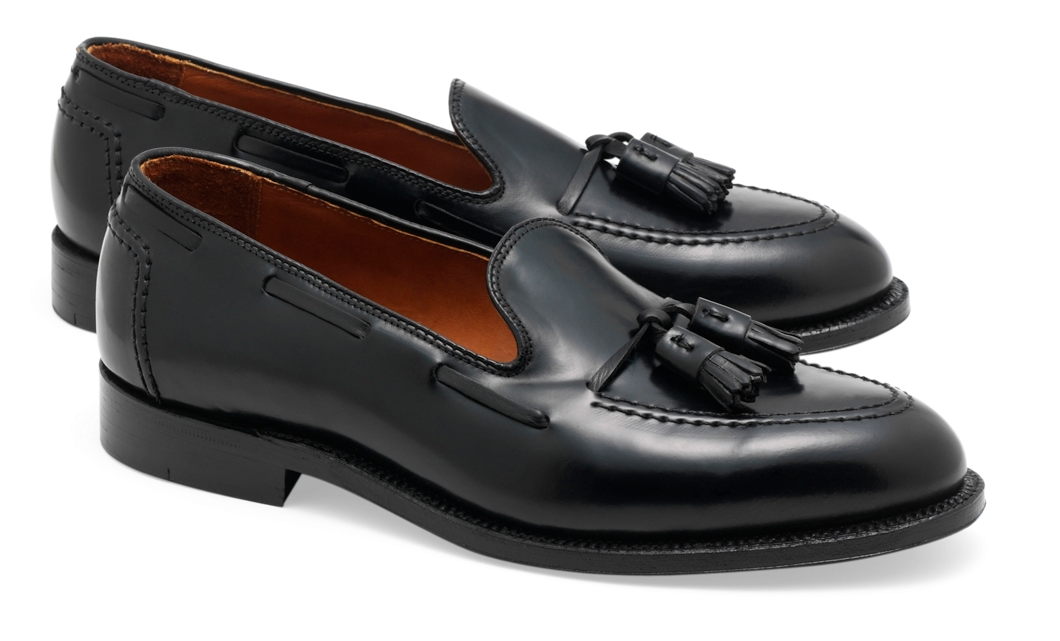 In 1980 when George Bush ran for US President he complained that Ronald Reagan had used unfair tactics in a debate. One of Reagan's aides responded famously that those with Mr. Bush's private-school pedigree were generic sore losers. "Those tasseled-loafer guys always cry foul when they lose," the aide said.
"Tassel Loafers" is also word referring to lobbyists, often lawyers in the US.
References
http://www.nytimes.com/1993/11/03/garden/the-politicization-of-tasseled-loafers.html
https://thornews.com/2014/03/03/famous-norwegian-classics-aurlandsskoen-penny-loafers/
"IMDb - Paul Lukas." 2017. IMDb. Accessed July 16. http://www.imdb.com/name/nm0510134/.
McQuiston, John T. 1997. "Henri Bendel, 89, Head of Store And Founder of Belgian Shoes." The New York Times, September. https://www.nytimes.com/1997/09/22/nyregion/henri-bendel-89-head-of-store-and-founder-of-belgian-shoes.html.
"Ordering Your Belgian Shoes." 2017. Belgian Shoes Homepage. Accessed July 16. http://www.belgianshoes.com/store-alteration.html.
Underwood, Elaine. 1991. "Belgian Shoe Line Sells Itself." Tribunedigital-Chicagotribune. October 27. http://articles.chicagotribune.com/1991-10-27/business/9104060692_1_shoe-factory-henri-bendel-mall-shops.