Formal lace up shoe with closed lacing, opposite of Derby Shoe. The facing is attached under the vamp giving the characteristic look.
Closed lacing system
Low heel
Low quarter, exposing ankle
History
There are various explanations and stories being debated to explain how the oxford evolved into its current state.
During the 17th century English footwear were dominated by boots. They had often higher heels and had a tight fit using buttons instead of laces, similar to the spat boot.
There is no reliable source covering the birth of the oxford shoe. However, one of the most recited explanations dictates that around year 1825 the students at Oxford University popularized a more comfortable half-boot, the Oxonian Shoe. It was more comfortable to wear compared to the higher boots due to the lower shaft and narrow slits on the sides, still it had a higher heel than what we are familiar to today. As time went on the shoe developed: the slits were later replaced with lacing, still on the sides, eventually the lacing was centered as it´s today. Over time the heel got lower and the height of the shaft got lower to expose the ancle. Exactly how this development took place, in what pace and order is not confirmed.
Other sources refer to Scotland and Ireland as the originating location. Oxford shoes, correctly cap toe Oxfords, is by some referred to as Balmorals. The history behind this originates from Queen Victoria, her husband Albert and the Balmoral Castle, located in Scotland. Albert wanted to have a pair of boots made suitable for both indoor and for outdoor walking. The boots designed from his whish had a closed lacing system to seal and protect from moisture. It´s said that they loved walking with these shoes on the land of Balmoral and that it´s likely he ordered a low version as well.
Richelieu is the word used for Oxford shoes in France. During the 17 and 18th century France had big impact of the fashion in Europe, also for footwear. The basic idea here is: it cannot be called Richelieu for no reason till this date and it´s not unlikely that Cardinal-Duke Richelieu(1585-1624) had big impact for the development of this shoe. Howerver, even though Richelieu was considered to be very well dressed and was widely popular it is not any remarks about his shoes in any writing and his name might been employed later.
The first known reference to Oxford shoes was in 1846 when Joseph Sparkes Hall, the inventor of the Chelsea boot, writes in The New Monthly Magazine that "Dress pumps are the only shoes now worn. The Oxonian shoe…is the best for walking. It laces up the front with three or four holes. It is none other than high lows now called Oxford shoes".
It´s difficult to tell the real origin but is likely a development over time where all stories are contributing with some parts to the result - the shoe we know today as Oxford shoes.
Category
Casual shoes/Dressed mens
Constructions
Is not limited by construction but can be made in most constructions,
Material
The oxford category is not defined by a specific material.It can be made in leather, synthetic or textile.
Terminology
The oxford shoe has a variety of name depending on location and preference.
Oxford
sometimes used to describe any formal lace-up shoes.
Balmoral
USA, used instead of Oxford shoe. Not only for cap toe oxfords.
Bal-type
USA, short for Balmoral, sometimes referred to.
Richelieu
France, common name
Appearance
Different types of oxford shoes explained and what differentiates them.
Plain Oxford
This is the most clean version and archetype of the oxfords.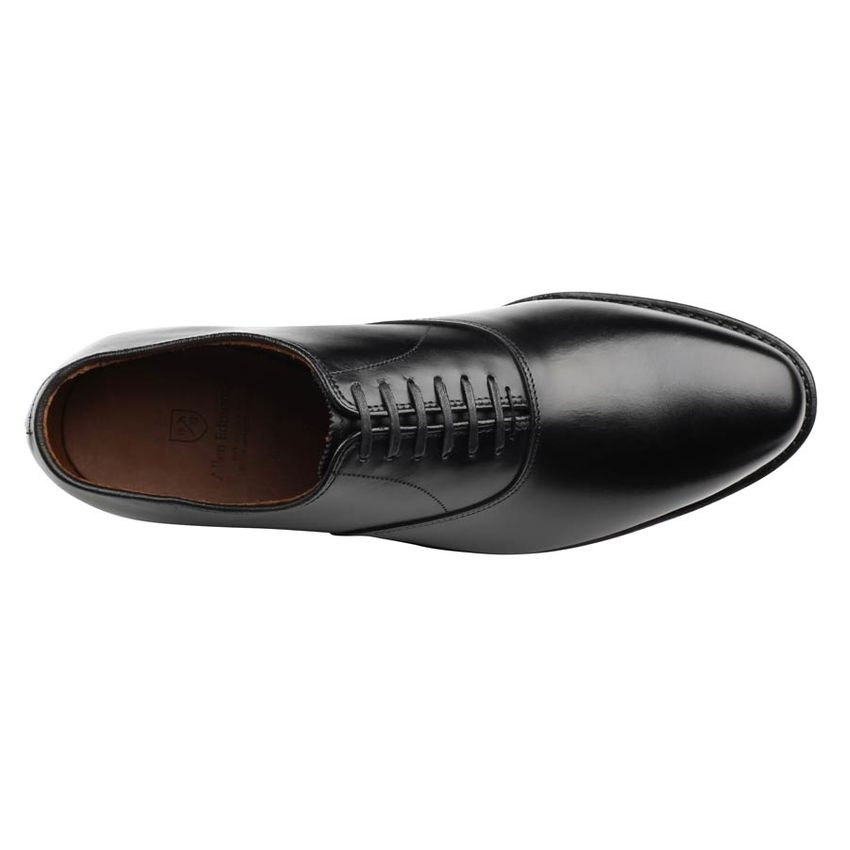 It consists of the quarter and the vamp but without any further detailing. It does not have any broguing, or cap over the toe box.
Balmoral/Cap Toe Oxford
Similar to a plain oxford but with a cap over the toe box. This cap is normally made in same material as the upper. Sometimes this cap has a decorative broguing along the stich line. Also called Balmoral
Wingtip Oxford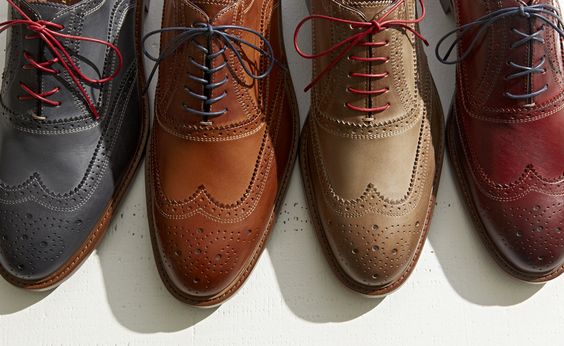 Classified by the shape of the toe cap which resembles to a W. The cap usually extends along both quarters of the shoe. Usually found as brougued versions.
Brogue Oxford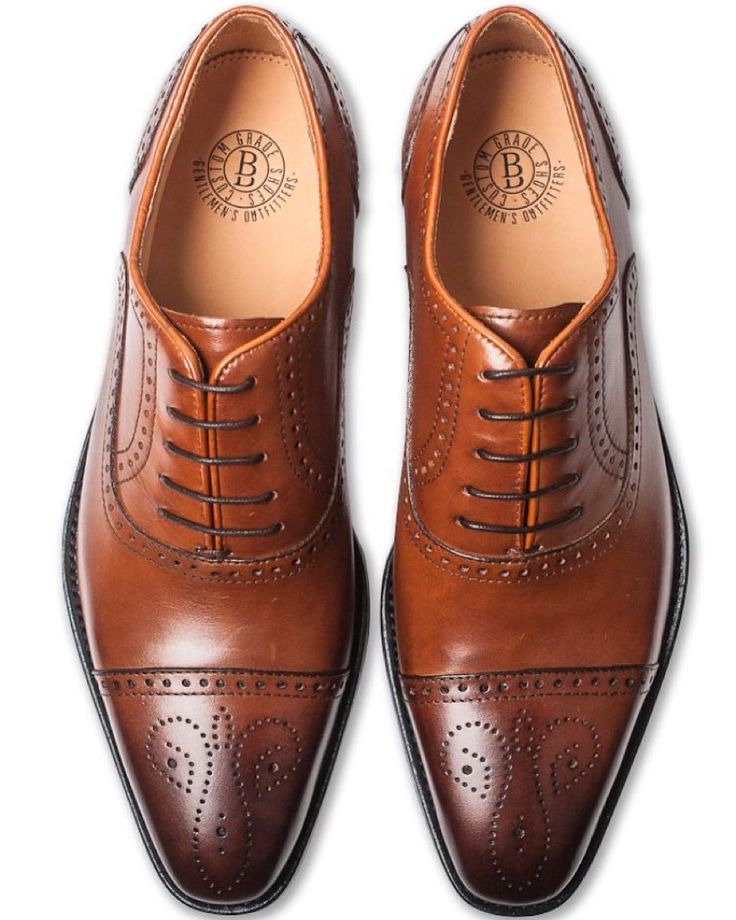 An oxford with brogue details. This is not really a type in itself but usually an attribute to embellish any kind of oxford. You can see this on all appearances except the plain oxford.
Picture source: https://se.pinterest.com/pin/404409241519875297/
Saddle Oxford
Sometimes refered to as just saddle shoe. It´s caracterized by a plain toe and a saddle shaped decorative panel mid shoe. This saddle is usually in contrasting color. It was created in the early 19th century by Spalding company. It was originally used as a gym and sport shoe where the saddle was engineered to support the arch and instep. It´s not clear if this has any clear impact though. It was popularized as Lindy Hop/Jitterbug dancing grew where it was adopted because of it´s comfortable characteristic and fashionable looks.
Picture link: http://porhomme.com/2011/04/mark-mcnairy-saddle-shoe-in-white/
Spectators
Spectator shoes are two-toned leather oxfords, typically a light color with a dark color at the toe and back. Most commonly the shoes were black and white, or brown and tan; they were often seen with broguing, or small patterned holes along the sides. Although the footwear had been around since early since the late 1800s, they did not become popular until the late 1920s. Typically worn by men, these shoes were often worn to spectator sports like cricket, hence the name.
Kiltie Oxford
Identified by the kiltie, fringed tongue over hanging lacing. Not very common as oxfords but more seen as derbys.
Picture link: https://resources.shopstyle.com/sim/a8/9a/a89a879541f621079ebbe47b4260a9aa/esquivel-hand-painted-kiltie-oxfords-white.jpg
Wolecut
Shoe is cut from one piece of leather instead of multiple. It generally only has one seam at the heel and gives a very clean and elegant look. Recently popular to decorate with a brogue medellion on the toe box.
Picture source: http://www.carminashoemaker.com/mens-oxford-shoes/wholecut-oxford-calf-910
Seamless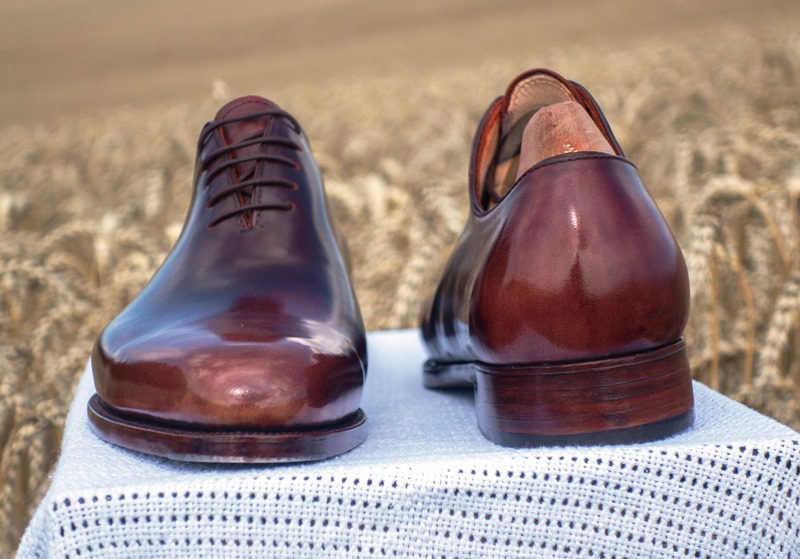 Very similar to a whoecut but it does not have a seam on the heel area. When cut it requires a high amount of skill and precision since it´s not possible to adjust the upper in any sewing process. It requires approximately double the amount of leather for a seamless oxford compared to a regular cap toe oxford.
Picture source: http://muaj.tumblr.com/post/96869663237/maftei-seamless-wholecut
http://www.gentlemansgazette.com/oxford-shoes-guide/
http://www.mrporter.com/journal/a-gentlemans-guide/everything-you-always-wanted-to-know-about-dress-shoes-but-were-afraid-to-ask/62
https://histoiredeschaussures.com/2013/11/08/plutot-derbys-ou-richelieus/
http://webcache.googleusercontent.com/search?q=cache:2Fw9CLTkVKgJ:www.commeuncamion.com/2016/01/20/lhistoire-de-la-chaussure-richelieu/+&cd=1&hl=sv&ct=clnk&gl=se
http://oldsoulretro.blogspot.se/2014/01/the-history-of-saddle-shoes.html