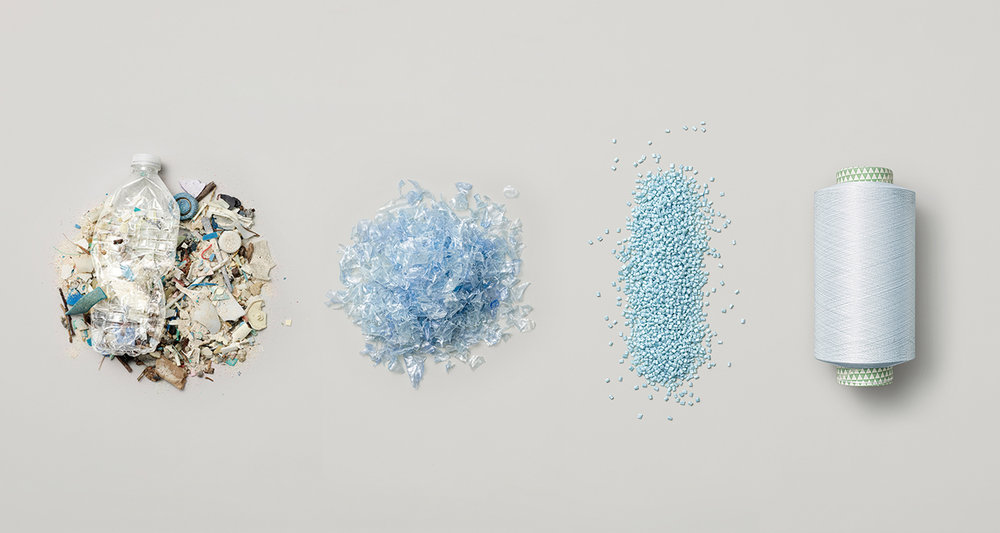 This is not a normal article but rather a collection of data to be able to find what you are looking for. We want to build this collectively to drive development forward. If you are missing an initiative or company then make a comment or send us a message at sustainability@findsourcing.com. As sustainability is a very wide concept with many different interpretations we will use a broad definition. However, we will make a sanity check for any initiative added to the list to limit green-washing. All companies listed have an application in the footwear industry.
Fabric
Econyl - Fabric: Ocean plastic regeneration into Econyl nylon.
Repreve - Fabric: PET Bottle regeneration into various filaments, shapes or granulates
Waste 2 Wear - Fabric: Blockchain technology to trace the creation of their fabric. They also make various products from their fabrics.
Tencel (Lenzing) - Various: With their Refibra project they are recycling textile to blend in the Tencel.
Agraloop – Technology: Turning crop residues into fiber and fabric. This is a technology from the company Circular Systems which can be used in a variety of different products.
Bark Tex – Fabric: A tree bark fleece from a Uganda/Germany company using bark as the main compound harvested from the East African fig tree Mutaba. It´s harvested without cutting down the trees.
Ultrasuede – Faux suede/nubuck: Part of the offer is made from plant-based polymers processed from biodegradable waste.
Dinamica – Faux suede: Made entirely from recycled polyester from T-shirts, fibers or from PET bottles etc. Made in Italy and fully recyclable.
Sympatex – Membrane: Producer of Sympatex membrane, 100% recyclable material made from a combination of polyester and polyester molecules.
BANANATEX® - Fabric: The world's first durable, waterproof fabric made purely from Banana plants
Yarn
EcoTec - Traceable Yarn: WIth full traceability in the cotton supply chain using recycled dyes the EcoTec yarn is spun to be used in different applications.
Bionic Yarn - Ocean plastic yarn: Gathering ocean plastic and upcycles this to yarn and fabric.
Seaqual - Ocean plastic yarn: Gathering ocean plastic and upcycles this to yarn and fabric.
Orbital Hybrid Yarns – Circular yarn: yarn technology capable of producing high quality + high-performance yarns using organic and recycled fibers.
Flocus Yarn – Kapok fiber yarn: Kapok is a natural cellulose fiber found in dried fruits of the kapok tree. It can be made to make a variety of different products like fabric, stuffing or yarn.
Leather
Tärnjsö Garveri - Leather: One of few tanneries with full traceability only using hides from 100% organically bred cows.
Rhabarberleder – Leather: Using a tanning agent extracted from rhubarb roots and only using hides from Germany where everything is sourced within 500 km from the tannery. They are part of the Association of Natural Leathers (IVN).
Wet Green – Tanning agent: Cradle-to-Cradle certified the patented wet-green is a tanning agent using by products from the olive industry to tan leathers.
Leather Substitute
Mylo (Bolt Threads) - Leather Substitute Using mycelium (mushroom roots) this material is grown to a leather-like structure. Bolt Threads is also known for Microsilk, using silk fibers from spiders.
Mycoworks - Leather Substitute: Using mycelium (mushroom roots) this material is grown to a leather-like structure.
MuSkin - Leather Substitute: Using mycelium (mushroom roots) this material is grown to a leather-like structure.
Amadou Leather - Leather Substitute: Using mycelium (mushroom roots) this material is grown to a leather-like structure.
Piñatex (Ananas Anam) - Leather Substitute: A non-woven material made from Pineapple leaves.
Fruitleather - Leather Substitute: From different kind of leftover fruits create leather-like material sheets.
Frumat – Leather Substitute: A material made from Apple Skin is a bio-based leather alternative derived from the apple industry food waste. They don´t have a website at the moment but you can reach them at info@frumat.it
Malai – Leather substitute: A biocomposite material made from entirely organic and sustainable bacterial cellulose, grown on agricultural waste sourced from the coconut industry in Southern India.
Desserto – Leather substitute: Made from the Nopal cactus Desserto is a breathable and entirely plant-based alternative to leather.
Coronet – Leather substitute: Corn leather, made with recycled polyester from plastic bottles and bio polyols, obtained from non-food and GMO-free corn crops. These materials have the highest percentage of biomass available on the market - up to 81% - and can be ennobled with any finish and grain.
Mirum® by Natural Fiber Welding – Leather substitute: high-performance plant-based material created in a circular system. Materials are free of petroleum-based plastics like polyurethane or PVC.
Pirarucu Fish Skin by Nova Kaeru – Leather substitute: Made from the waste of Pirarucu fish skin, it is a biodegradable material obtained through sustainable fishing management that contributes to changing and improving the quality of life of the riverine residents. The tanning process is completely organic and 100% free from harmful chemicals, nanoparticles, synthetic dyes and artificial fragrances.
Vegea – Leather substitute: made out of wine waste: grape marc, which is composed of grape skins, stalks and seeds discarded during wine production.
Soles
Lactae Hevea – Outsole: Made from hevea milk tapped from rubber (hevea) trees grown in Asia. It´s made by manually tapping into the tree creating a channel for draining the hevea milk. It´s used to create the soles by pouring the milk into molds.
EcoTPU – Outsole: Made by Resimol EcoTPU is made from 60% renewable plant materials with a focus on creating a light sole. It can be made in one or two colors.
XIRC™ - Outsole: TPU made from up to 50% post-consumer polyethylene waste. It has mechanical performance properties comparable to commercial, virgin-grade TPU
Toe Puffs and stiffeners
Millspeed – Toe Puff: MILGUARD OCEAN T ™ ( patent pending) is a new generation of filmic boxtoe materials, incorporating a unique polymer blend that includes reprocessed plastics and old fishing nets providing stiffness, shape and comfort.
Packaging
SCOBY (MakeGrowLab) - Packaging: 100% compostable material which can be used for packaging.
Others
QMilk - Felt material: Made from a combination of milk polymer and wool of any kind creates a unique material.
Bloom foam (Algix) - Solid Foam: turns algae combined with EVA into biofoam. Useable for insoles and similar products.
Re-Down – Recycled down and feathers material: Recycle feathers and down from post-consumer goods. Normally used as filling material.
Recork – Recycled Cork: Collects and recycles corks to turn them into a variety of different products including insoles.
Grasplast – Grass buckles: Trims and details made from 50% agricultural waste grass and 50% recycled buckles create an ecoplastic.
Milk Plastic – Buttons and eyelets from mild: Casein, a milk protein, can be used to create plastic and then applied to various different products.
Soy Ink – Print with Soy: A development to use ecological soy as the base for ink in different colors to screen print. Possible to print on both synthetic and natural materials.
I'm greenTM EVA – Resin made from sugarcane. It is flexible, light and resistant, the resin helps to reduce greenhouse gases in the air by capturing and storing CO2 during its production process.
This list is in constant development and curation. If you have any additional materials you believe should be added, make a comment to this article or send us an email at sustainability@findsourcing.com